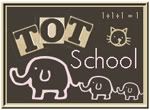 We started our official Toddler school with some of Love Bugs favorite things: Colors, Ladybugs (her room is filled with them), and the Letter L.
Love Bug is enamored with a series of books by
Melanie Gerth
- Ten Little Lady Bugs was Love Bug's first book in the series and is still her favorite.

This week we worked on:
RED
We painted with red paint,
Made a red sensory box
Made red
play dough
from this fantastic recipe to play with.
Ladybug
We read 10 little Lady Bugs, .......
We used these great
Ladybug Counting Cards
that Liesel made (she's super creative- and puts me to shame) Love Bug loved them! She didn't want to share them, we're still working in that.
We sang Ladybug Ladybug fly away home
L
We found lots of letter "L's" around the house on a treasure hunt. We found pictures of things that start with "L" and we practiced writing L on a paper. I made an "L" with circles in it and Little Miss used her red dot pen to fill them in.
We've been having a great time!