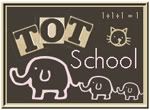 School this week was a lot of fun stuff. We did a really casual unit. Puzzles are always a favorite.
Love Bug played with the build a monster several times this week. We picked it up from Michael's at some point in time. It was meant to be stickers you put on him, but I mounted them on paper and laminated the pieces, and added velcro so it's reusable.
We put the alphabet in order with a few different alphabet sets this week. Magnets, blocks, and cards. We even started working on spelling Love Bug's (real) name. I was totally blown away when she repeated it to her dad later in the evening.
Love Bug absolutely adores playdough. Every afternoon when Jedi got home from school they played with it together.
We made pumpkin shaped pbj sandwiches and made them into jack-o-lanterns.
Love Bug chose the "U" mouth. 
The tots with their pumpkins
One got away.....
We practiced the letter "H" with our do-a-dot letters.
Two words: table scatter
If you aren't familiar with them, the you're missing out. Table scatter is the new confetti for parties. All the cuteness without the microscopic mess. I have found them in ALL sorts of fun shapes, colors, etc. These were from the Target $1 zone. I hit up Michael's, Joann, etc after holiday and seasons end to pick up clearanced items to use in school.
These pumpkins fit perfectly in the circles AND are great for sensory boxes too!
We made ghosts out of footprints
We practiced trick or treating- especially learning to say "Thank You".
We played "pass the cookie jar". We passed the jar while counting "1,2,3". The person who was number "3" got to pick a cookie. Next round we picked two cookies, and last round we picked three cookies. Each time we counted as we picked and passed.
And we shared our fun game of catching "falling" leaves!
It was such a fun week of learning!!